March 2023

PHI HUNG XANG THOR - JULIEN RICTUS
32 pages, 30 x 43 cm, silkscreen, 200 copies, 2008

THE WIGBOILER - SVEN BALSLEV
A4, 40 pages + wraparound/foldout cover,
silkscreened throughout in 3 colours, edition of 200, 2007


APC DE LUXE - MOOLINEX
120 pgs!, 25 x 35 cm, offset with silkscreened cover, 2005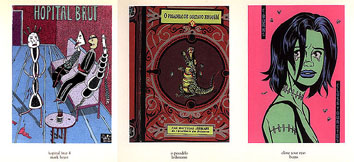 LE DERNIER CRI - Legendary Publishers of the International Underground
This full colour catalogue from Track 16 Gallery, Santa Monica, is an invaluable
look at the background and history of Le Dernier Cri, with four short essays by
Jean Louis Lanoux, Emmanuel Renoud, Georganne Deen and Pakito Bolino,
details of their films, and a bibliography covering 1993 - 2002. Plus there's dozens
of images of Le Dernier Cri books - including many rare and out of print titles.
Offset, 11 x 23 cm, 32pgs, Smart Art Press USA, 2003.



PIELAVESI - REIJO KARKKAINEN
This suite of drawings by Finnish artist Reijo Karkkainen, with titles like "Oh no, it's not a
summer yet. The fly has awoken too early when hungry reindeers are hunting for food.
Local people escaped to the spruce." and "Let's go to the headland and fix the boat. (I have
a jar of tar and spring is beginning)" is printed using equally unique colour combinations -
darker colours laid down first then overlaid with bright greens and yellows and there's also
pages with a layer of metallic silver for the background and other colours laid on top!
30 x 40 cm, 28 pages, all silkscreen in 3-4 colours, May 2000, edition of 200

T OUT OF PRINT ... NO LONGER AVAILABLE FROM THE PUBLISHER!




All prices include postage in the UK
Overseas customers please e-mail - mark@markpawson.uk