May 2021



DARK COLD SLIMY CAVE - ZIGENDEMONIC
Dark Cold Slimy Cave, is a collection of drawings made between 2009
and 2013 by Zigendemonic, the Ukranian artist now based in Berlin
A4, 60pgs, silkscreen, 200 copies, 2107.
2 copies in stock

| | | | | |
| --- | --- | --- | --- | --- |
| UK £27.95 | | | | |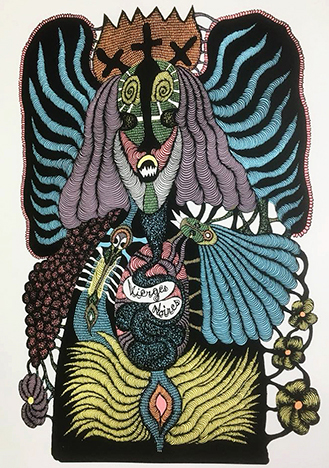 VIERGES NOIRES - EVELYNE POSTIC
Twenty large format colour images by Evelyne Postic are interspersed by 24 smaller pages
with texts in creole by Kenny Ozier La Fontaine. A3, 44 pgs, silkscreen 2018, 150 copies
Evelyne Postic's work is featured in Raw Vision #98



EX COP - LEO QUIEVREUX
The sequence of large, multicolour pages by Leo are interspersed with and overlapped by
smaller, single colour pages - drawings by Pakito Bolino, Dane Martin, Sekitani and Martin
Ramirez - which have been remixed by Samplerman in his ultra-layered collage technique.
Sickscreen book, A3, 44 pages, 150 copies, 2018.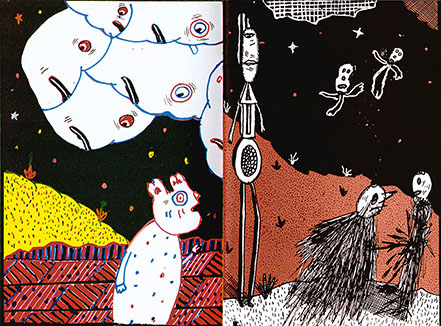 MARK BEYER - 2016-17 Sketchbook
40pgs, A5, silkscreen cover, interior offset, 500 copies, 2017




TAROT DE MARS - CELINE GUICHARD
Celine Guichard's Tarot de marseille - 22 tarot cards in a folder. the cards are offset printed in 6 spot colours,
and comes housed in a violet card folder screen printed which is in off-white.20 x 12.5 cm, edition of 500, 2017



MISCOMOCS COMICS - SAMPLERMAN
24.5 x 16 cm, 40 pages, 500 copies, 2017.





All prices include postage. mark@markpawson.uk