June 2022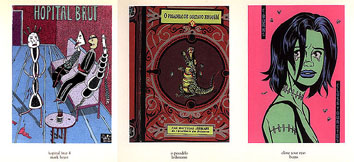 LE DERNIER CRI - Legendary Publishers of the International Underground
This full colour catalogue from Track 16 Gallery, Santa Monica, is an invaluable
look at the background and history of Le Dernier Cri, with four short essays by
Jean Louis Lanoux, Emmanuel Renoud, Georganne Deen and Pakito Bolino,
details of their films, and a bibliography covering 1993 - 2002. Plus there's dozens
of images of Le Dernier Cri books - including many rare and out of print titles.
Offset, 11 x 23 cm, 32pgs, Smart Art Press USA, 2003.



1348 - MARCEL RUIJTERS
Bring out Your Dead, Bring Out your Dead! 1348 was the year of the Black Death, Marcel
Ruijters explores the bubonic plague that raged across europe in a series of intricate full
page illustrations, With a tip of the hat to Breughel and Heironymus Bosch, this series of
tableaux depict the hideous effects of the disease in an highly imaginative way with
humorous touches. Heavyweight paper gives a parchment feel to the books pages.
Silkscreened cover, inside pages are full colour offset, 30 x 21 cm, 700 copies, 2011.


MAXI-MOX BUKAKILL - PAKITO BOLINO
Manga Madness given a graphic thrashing by Pakito Bolino, the captions
are in english, which MIGHT give you some idea of what's going on...
44 x 15cm, 40 pgs, all silkscreen, 200 copies, 2011


PIELAVESI - REIJO KARKKAINEN
This suite of drawings by Finnish artist Reijo Karkkainen, with titles like "Oh no, it's not a
summer yet. The fly has awoken too early when hungry reindeers are hunting for food.
Local people escaped to the spruce." and "Let's go to the headland and fix the boat. (I have
a jar of tar and spring is beginning)" is printed using equally unique colour combinations -
darker colours laid down first then overlaid with bright greens and yellows and there's also
pages with a layer of metallic silver for the background and other colours laid on top!
30 x 40 cm, 28 pages, all silkscreen in 3-4 colours, May 2000, edition of 200

T OUT OF PRINT ... NO LONGER AVAILABLE FROM THE PUBLISHER!


DEELI MOODEE - MOULINEX
Loose leaf publication, each page folds out to a doublesided poster.
2010, 25 x 25cm, 12 Pages, edition of 200, Silkscreened in 2 colours


MUG - CORSICA EGG
A 32 page silkscreened book, with artwork by Pakito Bolino, which includes
2 x 10" records with 26 tracks. 26 x 26 cm, March 2000, 500 copies,
a co-production between Le Dernier Cri and Pandemonium




Prices include postage in the UK. mark@markpawson.uk