November 2023


Rough Trade Fanzines List
Reprint of a mail-order list from 1981, listing approx. 200 fanzines
from across the UK and around the world. A4, 8 pages, stapled.


Better Badges Catalogue
This reprint of the 'bogalogue' catalogue from 1981(?) lists a couple of hundred
badge designs, details of the D.I.Y. badge service, a whole page of Adam & the
Ants badges and 4 pages of T-shirts. 21 x 7.5cm, 16 pages.

thirty, forty, fifty thousand photocopies
Matthew Higgs talks about music, Joy Division/New Order, Fanzines,
publishing the 'imprint 93' series of artists books & multiples and curating.
Higgs is a British curator and artist, since 2005 he's been the curator
of White Columns, New York's oldest alternative art space, founded in 1970
A5, 16 pages with translucent paper dustjacket.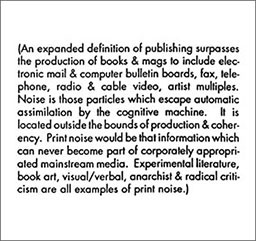 Why Publish Noise?
This booklet reprints a smart, succinct text by Mikeal And, which was first published
in the early 1990s and is equally pertinent today. read it online.


10 x 10.5 cm, 12 pgs, on various different coloured/patterned papers.

All prices include postage in the UK
Overseas customers please e-mail - mark@markpawson.uk